You Knew I was gonna do it right??
Finally, the greatest basketball player in the NBA got his due.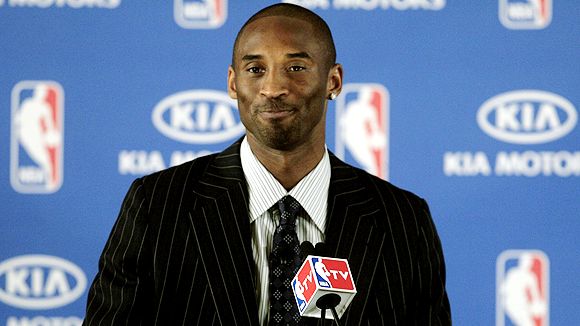 photo courtesy of
espn.com
- AP Photo/Ric Francis
Click on that photo to read an article by one of my Favorite journalists, J.A. Adande; though I do disagree with some of his stuff, he usually gets it right; and to quote Jim Rome from his show this morning, The NBA got it right too.
Chris Paul had an amazing season and he's clearly going to be a force in this league for some time to come; and as I've been saying to friends, and anyone who'll listen, the NBA is full of talented players.
Lebron James, Dwayne Wade (when he comes back from injury), Chris Paul, Deron Williams, K.G., the list goes on and on; and when it comes to the younger players the best is yet to come; We haven't even seen Greg Oden yet... or a Full Season of the steadily improving Andrew Bynum; The future of the NBA looks great - but where as Kobe is Concerned, he's been robbed of at least 2 MVP's - and it's obviously due to his troubles in Colorado.
I'd even argue the 3rd Finals they were in, against the Nets, Kobe should have gotten the Finals MVP for that because he was just riddiculous during the playoffs, and those finals.
The Year Kobe rattled off a string of 40 point games, or the year he rattled off a string of 50 point games ... and 81 points in One game, you could've easily given him MVP for that. But I guess they couldn't deny him this year. In the past the argument was, "well those other guys helped their team win First Place."
If that was the criteria, then naturally, this was his year.
Congrats again to Kobe Bryant, MVP of the league... Simply the best, of the best.